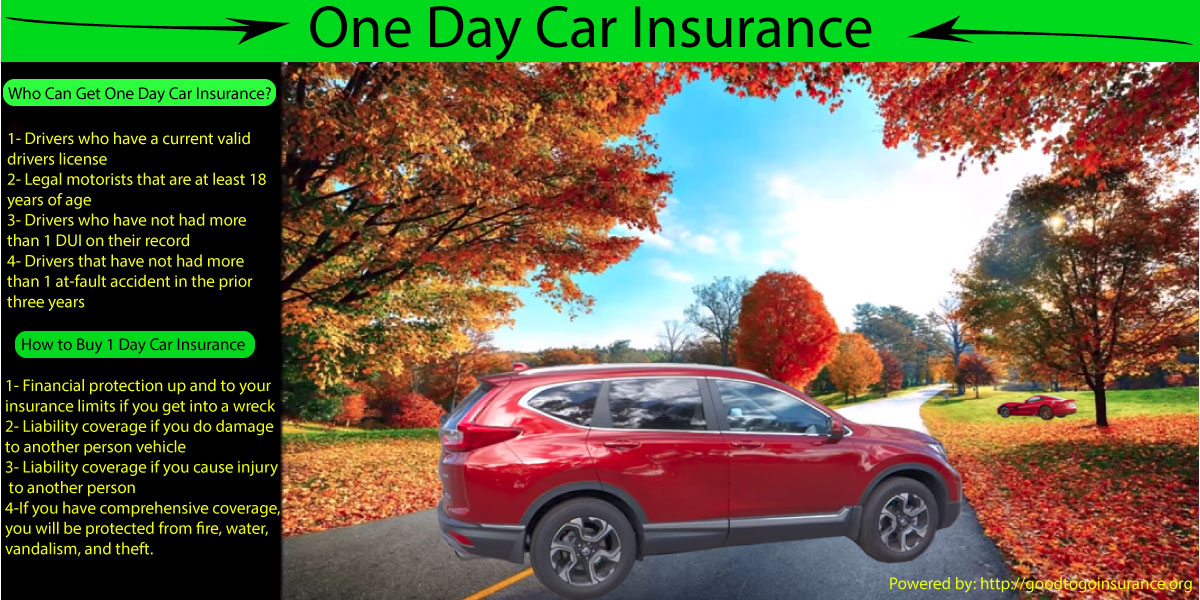 One Day Car Insurance
If you need to use a vehicle for a short period, you might need to buy a one day car insurance policy. Car accidents can happen when you least expect it, so you should get insured, even if it's just for a day or two. Compare rates in less than 5 minutes with a free Good To Go Insurance quote online.
When You Need 1 Day Auto Insurance Coverage
There are numerous occasions when you might need a very short-term auto insurance policy for 1 day. Even if you only drive for a couple of hours, you still need to be insured in every state. These are a few situations where you might need to buy short-term coverage.
You're moving and borrowing a truck or van that's not insured.

You're renting a moving vehicle, such as U-Haul, and want added coverage.

You're test-driving a dealer's vehicle for 1 day.

You're going on vacation.

You're repairing your vehicle and borrowing a friend's automobile for 1 day.

You rent a car for 1 day and want additional coverage.

You're traveling to Mexico or Canada and need car insurance for one day.
The main point is always to drive an insured vehicle. For example, you are renting a truck from Home Depot for 2 hours and don't think you need to get any insurance. That big truck could cause an accident that could bankrupt you. It's not worth driving without insurance, so be safe rather than sorry and always get insured.
Who Can Get One Day Car Insurance?
Drivers who have a current valid driver's license

Legal motorists that are at least 18 years of age

Drivers who have not had more than 1 DUI on their record

Drivers that have not had more than 1 at-fault accident in the prior three years
How to Buy 1 Day Car Insurance
You might need to buy one day vehicle insurance but don't know where to start or how to get it. Here are some helpful suggestions that will get you started.
Get all of your personal info together.

Before you get any quotes, you need to have a few things ready. This includes your driver's license, the make and model of the vehicle that's getting insured, and your driving record. This will help make the quoting process go a lot faster.

Compare Online Quotes.

 Some of the best deals on car insurance are found online. 

Direct pricing can help you save hundreds

. Make sure you compare at least ten rates to ensure you are getting the best deal. To verify that you're indeed getting a reasonable rate, call up at least one agent to compare your direct rate.

Choose a Carrier.

Now that you have reviewed several quotes, it's time to make a final choice. Make sure you choose a financially stable insurer. This is important because if you file a claim, you want it to be paid out on time and in full. You can review a company's ratings at A.M Best online.

Proof of Auto Insurance.

 Once you make your initial auto insurance payment, you need to print out a proof of car insurance I.D. card. Most insurers let you easily do this online. Try to keep it in a safe place, preferably the glove compartment, in case police officers pull over your car or get into an accident.
1 Day Car Insurance Coverage
Even though you only purchase auto insurance for 1 day, you will still have legal coverage. This includes:
Financial protection up and to your insurance limits if you get into a wreck

Liability coverage if you do damage to another person's vehicle 

Liability coverage if you cause injury to another person 

You will be protected from fire, water, vandalism, and theft if you have comprehensive coverage. 
How Much Does a Day Insure Cost?
Buying car insurance for one day often costs $40 or more for comprehensive coverage. This is a specialty service that not all insurers offer. To cover someone for such a short period, carriers must charge more per day than longer-term policies. This type of insurance should only be bought on rare occasions when a unique driving situation arises. It is far more economical to purchase auto insurance for 6 or 12 months at a time.
Some providers that offer 1-day policies have certain restrictions. This includes the age of the driver and driving record. Most teen drivers, for example, cannot qualify for 1 day automobile insurance. Also, motorists over the age of 75 might not be able to find a one day policy. Drivers with repeat driving while intoxicated violations on their record will often be denied short-term auto insurance. To check rates, enter your zip code and get matched with direct providers in less than 5 minutes.
Get Cheap 1 Day Auto Insurance Online
If you have access to the internet, you can get cheap 1 day car insurance online. Not only can you save hundreds of dollars by purchasing a direct policy, but you will also save a lot of time. To compare the lowest prices, apply for a free quote with carriers like GoodtogoInsurance. Find the best rates and even buy your policy online in just a few minutes. Get the policy you need at a great low price.